It can be difficult for a newborn or young baby to find a first Christmas gift. Toys seem irrelevant and essentials may not be needed so what do you buy?
Some ideas may include essentials, clothes, sensory toys or a first Christmas book.
When it comes to essentials (nappies, bottles, wipes), you can never have too many! These gifts are always needed for a new mum and as a Christmas gift, they can be a quick and easy buy for baby.
Clothes are also something that you can never have too many of for a growing baby. Some parents may be looking for clothes in a bigger size so always double check before buying!
Sensory toys are a good option for a young baby. From one week after birth, babies can begin to see colours from 8-10 inches away. They can also feel different textures. Sensory toys are therefore a good option to help your baby as they grow and develop with vision as well as touch.
As an alternative to these gift ideas, you could get a more memorable gift like a First Christmas Book that can be kept and used in later years.
Making Christmas Memories
Making memories with your baby is always precious. During the festive season, this is the perfect time to make some more memories.
You could spend some time finding your baby's perfect Christmas stocking and bauble to go up with the rest of your decorations. These are keep sakes that mark the start of your festive family memories.
If you are all about traditions, why not start your own? With so many matching PJ sets available today, why not start this family tradition and get you all in a matching set? You could even do a mini home photoshoot to capture the first memories!
As a special memory for your family and friends, you could make your own Christmas cards this year with your baby's hand and footprint on the front. This is a great way to share small memories with your loved ones too.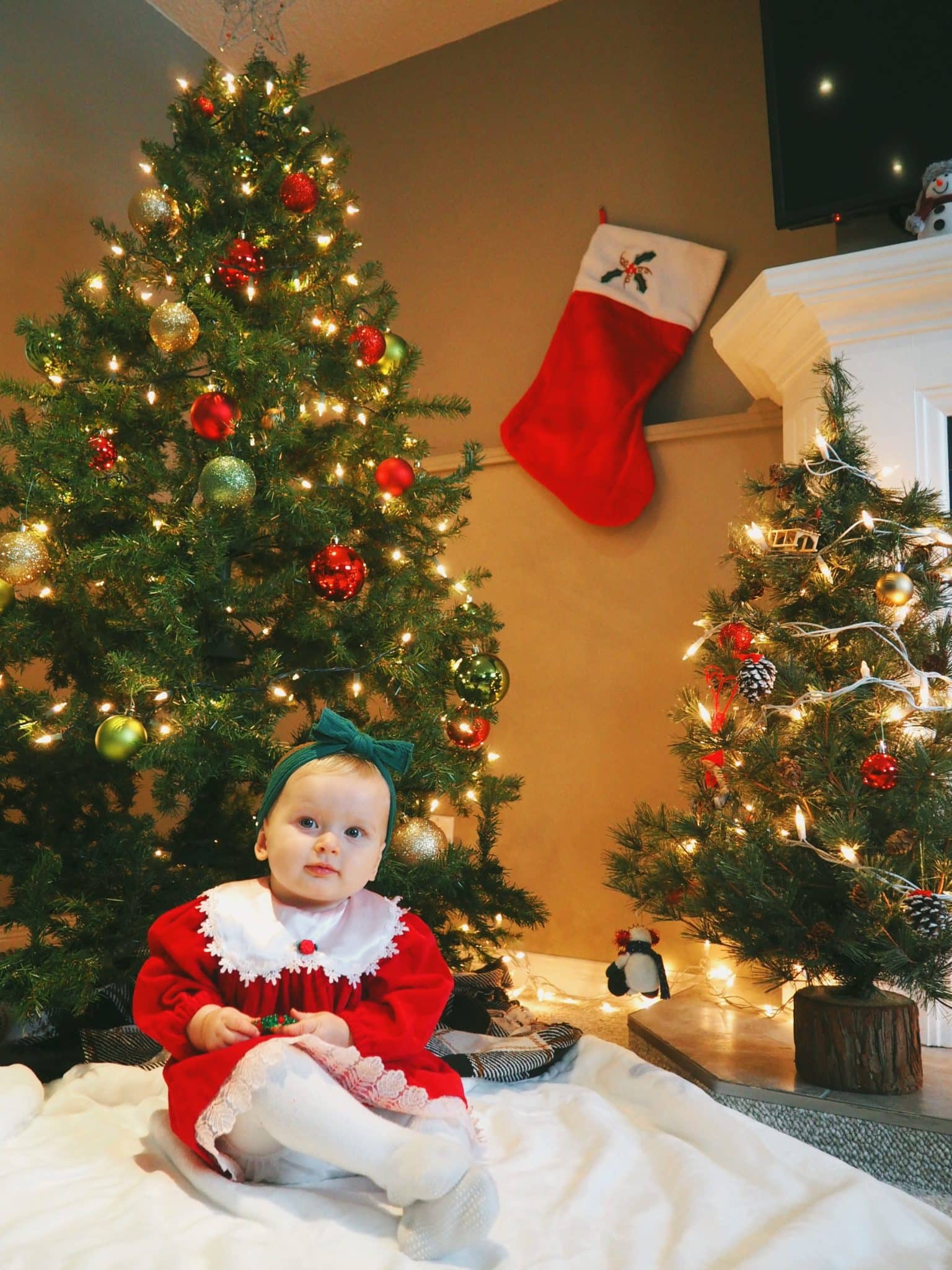 How to Keep Your Baby Entertained
One of the other struggles during the festive season in knowing how to keep your baby entertained, particularly on Christmas Day.
Some tips to keep in mind for the day include:
Wrapping paper play – let your baby play with the wrapping paper before you scrap it all. This is something that can provide them with hours of fun on the floor.
Jingle bells – the sound of the bells jingling away can be appealing to your baby. Bring them the bells and let them jingle them throughout the day, keeping them occupied.
Bright lights and colours – as already mentioned, from one week old, your baby can see colours and outlines within 8-10 inches away from them. Show them the lights on the Christmas tree or hold up a toy for them to explore with their hands. Remember to never leave them alone next to anything heavy or sharp!
One thing to always have to hand is a quiet space! Your baby may find the day overwhelming after a while. Lots of new things to look at, touch, and new voices all around them. This may cause them to get grumpy and need time in a quiet space where they can possibly even take a nap!
We love to hear your festive stories here at Peek A Baby. Why not share them with us online; you can find us on social media!
If you are pregnant over the festive period, why not come and meet your little bundle of joy with our Gender Scans? This gives you the opportunity to meet your baby for the first time! Alternatively, you could join us for an Early Reassurance Scan if you are very early in your pregnancy journey.
If you know someone who is pregnant, why not buy them a Peek A Baby gift card? This is a great gift, giving them the opportunity to come and meet their baby, and bring family and friends along too!
Give your local Peek A Baby clinic a call today on the number below or book your appointment with us online.