How to Prepare for Your First Family Christmas
The first Christmas with your baby is a momentous occasion, marked by love, warmth, and the promise of new family traditions. While your little one may not have lasting memories of this special day, it's a time that you, as parents, will hold dear for years to come.
To help you navigate this significant milestone and ensure a stress-free celebration, here are seven essential tips for preparing for your first family Christmas.
As you embark on this journey, remember that your baby is still very young and won't retain memories of the holiday festivities.
With this in mind, there's no need to place excessive pressure on yourself to create the perfect Christmas. Instead, prioritise creating a cosy and stress-free atmosphere that allows you to savour the joy of the season!
One of the keys to a successful first family Christmas is planning ahead. Begin your Christmas preparations early to sidestep the frantic rush that often accompanies the holiday season.
By opting for online shopping, you can avoid crowded stores and long lines, freeing up precious time to focus on the true meaning of the season – spending quality moments with your loved ones.
Deck the Halls with Baby in Mind
Safety is paramount when celebrating your baby's first Christmas. Before decking the halls, take steps to ensure that your holiday decorations are baby-friendly.
Opt for soft, unbreakable ornaments that won't pose a danger if they find their way into tiny hands. Additionally, make certain that any potential hazards, such as sharp objects or choking hazards, are securely out of your baby's reach. This precaution ensures a worry-free environment for your little one.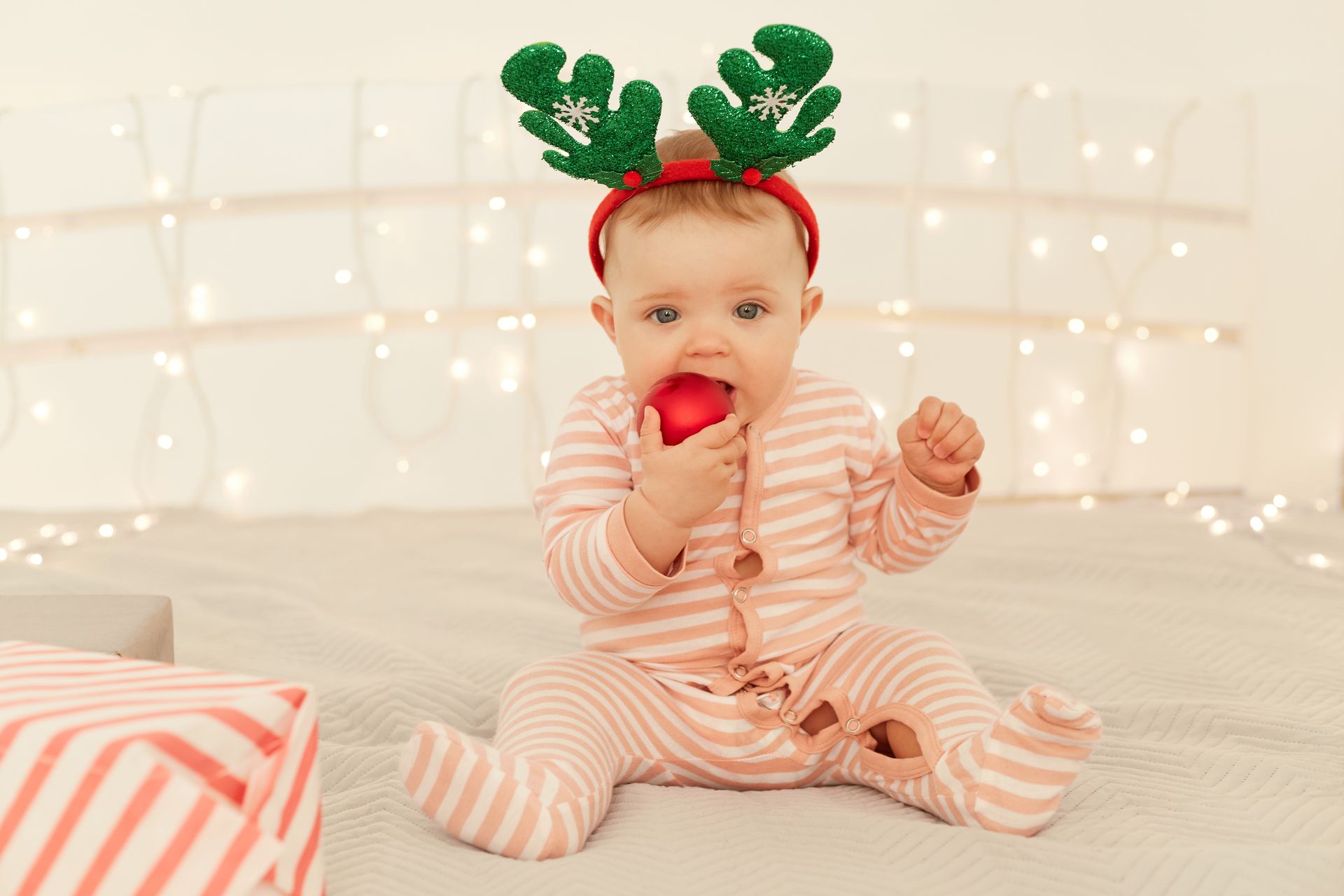 While your baby may not remember their first Christmas, you most certainly will. Capture these precious moments by taking plenty of photographs and creating keepsakes that will stand the test of time.
Consider crafting or shopping for a special ornament that commemorates your baby's first Christmas. This simple tradition allows you to revisit these cherished memories together year after year, weaving a beautiful tapestry of family history.
Choose Your Christmas Priorities
As you navigate the transition to parenthood, it's vital to sit down together and discuss the holiday traditions you want to uphold and those you may choose to set aside.
Plan ahead for your Christmas celebrations, determining where you'll spend the day and with whom you'll share it. These conversations help set clear expectations and ensure a harmonious and enjoyable holiday season.
Amidst the flurry of holiday preparations and the demands of parenting a newborn, don't forget to prioritise self-care. Finding moments for self-nurturing can be just as heartwarming as any festive tradition.
Whether it's a peaceful moment with a warm cup of tea, a relaxing bath, or even a brief nap. Tending to your well-being is essential for creating a warm and loving holiday atmosphere.
Don't hesitate to accept offers of assistance from your loved ones during this bustling season. Whether it's a helping hand in the kitchen, someone offering to babysit for a few hours, or simply providing a listening ear.
Allowing others to join in the joy of celebrating your baby's first Christmas can make the holiday season even more memorable. Sharing the load and the love strengthens family bonds and enriches the spirit of togetherness.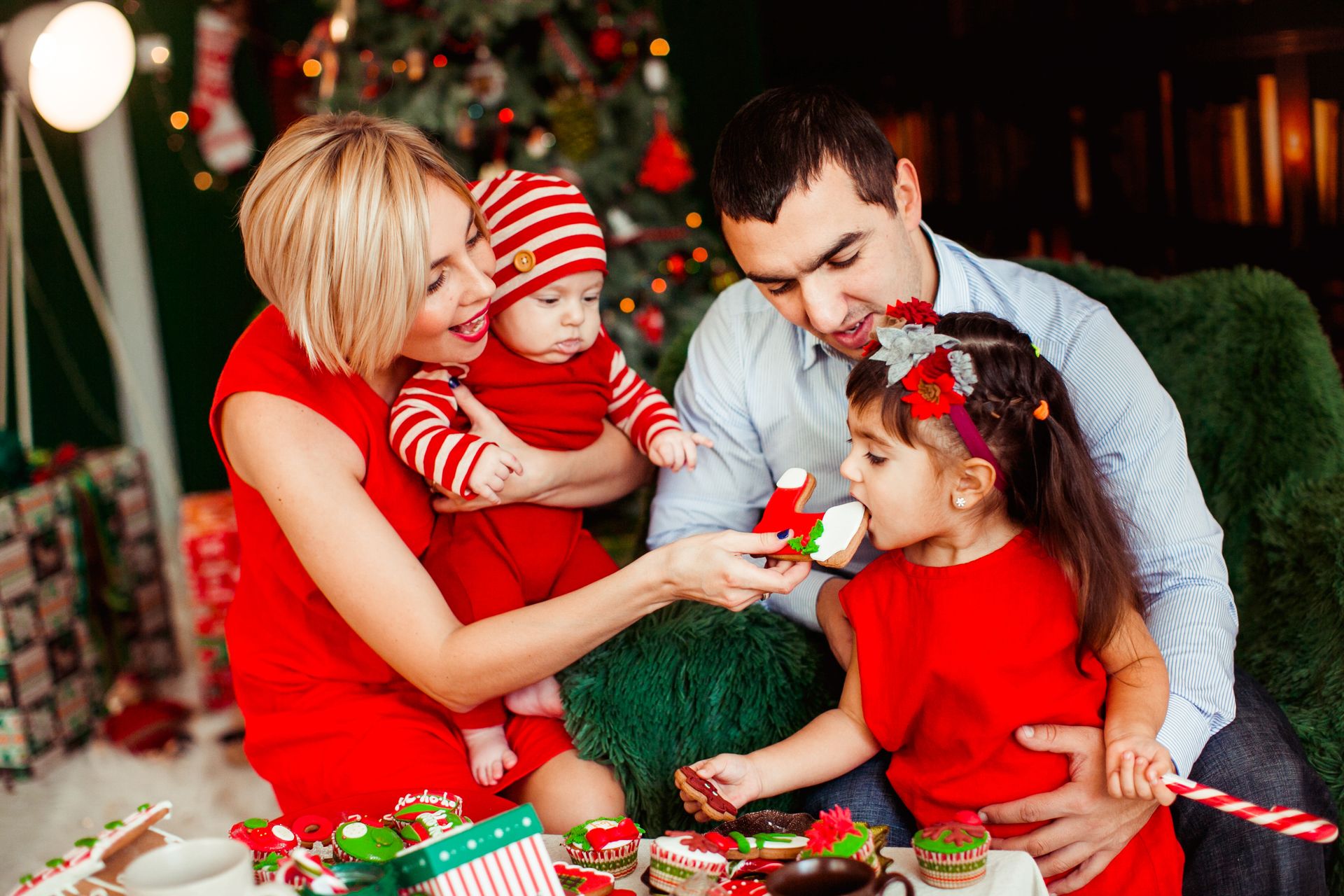 As you celebrate your baby's first Christmas, it's essential to navigate the expectations of both your families and create boundaries that prioritise your new family unit.
Discuss with your partner how you want to balance time spent with each side of the family during the holidays. Open and honest communication is key to managing expectations and avoiding conflicts.
Remember that it's perfectly acceptable to establish boundaries that allow you to prioritise your immediate family's needs and traditions while still sharing the joy of the season with extended family members.
Your baby's first Christmas is a special time for your family, filled with love, joy, and the promise of new beginnings. While your little one may not remember this day, the memories you create will be cherished for years to come.
By following these tips, you can ensure that your first family Christmas is a heartfelt celebration that sets the stage for many more beautiful and meaningful traditions in the years ahead.
May your holiday season be brimming with love, warmth, and the enchantment of new beginnings. Marking the start of a lifetime of unforgettable Christmases together with your new family!
If you know someone that would love a treasured moment with their baby this Christmas, why not book them a scan with their local Peek A Baby today. Christmas is a busy time for all of our clinics so be sure to book in advance to get your private baby scan this Christmas!